Stuffing box packing - 1/4" or 5/16"? I know the formula comes out at 5/16", but the packing in the original was 1/4", and it seems easier to compress smaller to larger than compress too large to smaller. What are folks using on the C&C 27? (Size, not material - I made up my mind on that one for now). Thanks.
---------
1974 C&C 27 Mk II in PEI
Old post, but new problem - to me. Looking for advice.
My Mk V (1GM10 engine, 7/8 shaft) had the stuffing box repacked (previous owners log) about 150 to 200 hours ago (8 to 10 years or more). Was fine, but recently started excess leaking - guessing up to 1 gallon per hour under power! - thank heavens for my auto bilge pump. Any harm to tightening the fitting a bit until I can find some new packing and pull the boat to instal it? (I read about how to do this in the water, but don't wish to try it on my first attempt.)Also, any one know the(likely)correct size of packing for this setup?
Thanks.
Barry, Oasis, 1987 Mk V
I put in a new graphite packing last year (i think it was 1/4 inch) which keeps out the lake very well. Last spring it leaked quite a bit when I launched the boat but fixed it with help from a couple of pipe wrenches. Snug it up till it stops leaking and run the engine. A few drips per minute is ok for lubrication. After it's run in a little, feel the packing to make sure its not hot. If hot it will damage the shaft and burn out the packing. Adjusting the packing is not dangerous while afloat, replacing it is. Just make sure the shaft log is in good condition (10 years...I'd think about replacing it) and don't allow any torque to be transfered to it while tightening.

Brent Driedger




S/V Wild Rover




C&C 27 MkV #15



I tried 3 rings of either 1/4" or 5/16", but got no drip. Either it was too large in diameter, or I should have gone with two rings, or I tightened the packing gland too much prior to launching. I do recall I used 3 rings of Teflon packing, and that I did not have many threads to play with, so I after trying to back off the packing nut a couple of times gingerly, I went to a PSS shaft seal instead of fiddling around further.




---------------------
1974 Mark II C&C 27



Thanks for the advice. Thought I would let you know how my temporary fix turned out.

When I assembled the tools and got to the repair, the shaft was dripping so fast that it was almost at the point of a small but steady stream. The automatic electric bilge pump was running about every 10 to 15 minutes. My boat has always been in fresh water, so there was no corrosion or sticking of the packing nut or locking nut. With experimentation, turned out that about 3/4 of a turn was required to stop leaking (stationary). I ran the prop (at the dock) for 15 to 20 minutes. Slight amount of water being flung off periodically, and shaft was barely even warm.

Several days later I returned to the boat. Not a drop of water coming from the shaft - totally dry in the engine compartment. I then motored for about 4 hours to make sure all was well, and tested the shaft temp with an infared thermometer. The water was 61 degrees F, and the shaft consistantly ran at 81 to 83 degrees F, with tiny droplets of water being flung off periodically. I doubt that more than a tablespoon or two collected under the shaft - not enough for it to run more than six inches or so before it evaporated. It appears this is within normal specs. So all is well.

The ships log shows that it was repacked by a previous owner in June 2002 with 5/16 teflon shaft packing at 132 engine hours. Now ships log shows that I tightened it 3/4 turn in Aug 2010 at 379 engine hours.

I expect I will likely repack it next spring.

Barry, Oasis, 1987 Mk V.
Repacked the stuffing box on Silver Fox over the Labor Day holiday.

The stuffing that came out was a one piece multi-strand string. It was done, and may have been original as most of the things on the boat are.

Anyway, replaced with 3 pieces of square shaped PTFE flax stuffing ($5 a ft). 5/16ths is the size, and the 3 pieces fit in perfectly. Each piece was over 4" long to go around the 7/8ths shaft (so get more than a foot of the stuff).

The stuffing box and locking nut were frozen together. Used PB Blaster overnight and 2 big pipe wrenches to force them apart.

We had the boat on the hard for the project, as it was my first time doing something like this.

Did have a drip every 6 seconds (with engine off) before, but a nice dry bilge now (1 drip every 20 seconds when under power).

Can get the packing nut tight enough by hand - no wrench needed there. Make sure to use wrenches to tighten the locking nut though, as it will work loose otherwise.

Ralph.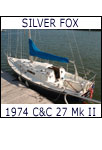 -------------------------------

Ralph
Silver Fox
C&C 27 - Mk II - #417 (1974)
Norfolk, Virginia.
Blog: SilverFoxSailing
-------------------------------
Ralph - enjoyed your blog. Our boats are only a dozen numbers apart and both obviously still bringing much pleasure to two families. We got them a year apart, I see. Interesting that you got three rings of 5/16 to work. I only had about three threads left when I put three rings in ours, and it felt tight. Pretty sure I used 5/16 too. I must have tightened the box too much before putting the boat in the water for the first time.




---------------------
1974 Mark II C&C 27



UPDATE:

The stuffing box issue was not fully resolved last month when I replaced the stuffing.

We had good dripping - a drip every 8 seconds when in gear, and no drip when the engine was off.

But the stuffing box was getting very hot to the touch. Research says the box shouldn't get hotter than 15 - 20 degrees more than the surrounding sea water, which is currently 67 degrees down here in the southern Chesapeake Bay.

And hot to the touch is at 130 - 150 degrees.

Thus I have good dripping, but the box is too hot, so for some reason the packing is not being cooled, which is vital.

Turns out that the 3 wraps of the stuffing is too much. And the dripping I was getting was coming out of the threads of the gland nut and locking nut. The dripping should have been coming out where the shaft exits the stuffing box, thus the water would be cooling and lubricating.

So I opened the gland to get a wrap stuffing out. I did this while the boat was in the water, and was amazed how LITTLE water comes in through the stern gland. A light trickle, and I didn't bother to stuff anything in there to slow it down.

So now we have 2 wraps of 5/16ths stuffing, the gland is screwed much further up the threads, and in gear the box temperature is warm to the touch - as it should be.

Of note is that I do not have any dripping - I don't think I need any, as when I loosen the gland nut even a fraction, it leaks excessively - drips every 2 seconds. There doesn't seem to be a middle ground. But my take away from all this is that the drip rate is not as important as the temperature of the stuffing box - it should feel warm, but not hot.

I'll be monitoring it over the next weeks, and will post any updates here...

Ralph.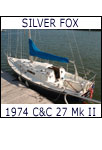 -------------------------------

Ralph
Silver Fox
C&C 27 - Mk II - #417 (1974)
Norfolk, Virginia.
Blog: SilverFoxSailing
-------------------------------
I found this link to a blog which is, by far, the best documented description of the stuffing box. It describes with words, along with very good photographs, how to change the packing in a traditional type of stuffing box.
Note the sizes described here are for a one inch shaft. Most C&C 27's have a 7/8 shaft but the process is similar.

http://www.pbase.com/mainecruising/stuffing_box&page=1

rblade