The gas: I had 2-year-old-fuel in my boat and the mechanic told me to get rid of it, so we mixed it in the gas of several club boats. On the other hand, you might say that 2-year-old 2009 gas has deteriorated to the point where it's like 1940's gas, which is when the Atomic 4 was designed, so why worry? The only real issue is if this stuff has been sitting in the carb - old gas can age into a varnish that blocks the carb jets, which can be a bore. But you say the engine starts well, so you shouldn't worry. I'd use as much as I could this season, then replace all of it for winter layup (with stabilizer) and start next year fresh.

Next spring, install the Racor; it's almost certainly better than your "little filter", whatever it may be. Note, though, that the cartridges for a Racor are about $40 each and you must replace them every two years or they gum up (it's supposed to be one year but I've always done two and never had any consequences from this little economy). Write the date on the outside of the cartridge so you remember. At the same time, replace the stupid little screen in the electric fuel pump; these are infuriatingly prone to clogging (some people simply take these out, on the reasonable assumption that nothing is going to get past a decent external filter anyway).

I assume that by "little filter", you are referring to a unit that is external to the engine, so you could mount the Racor where it the little one now is. Alternatively you could use my location, on the transverse bulkhead in the cockpit locker next to the tank; that's quite convenient and doesn't take a space that could be used for something else.

When you install the nipples that the hoses attach to, do not use Teflon tape. Many people do, a reflex from installing plumbing fixtures. I was warned that Teflon tape dissolves in gasoline and diesel, then reconstitutes itself in narrow passages, like carbs and injectors. I used a small amount of pipe dope.

One last thing - be sure your Racor is a gas-approved one. Racor sells a filter with a clear bowl, so you can see if there's water in the fuel (as below), but this is only for diesels. A gas engine filter should be gas-engine approved, which usually means all metal. If you decide to replace the fuel hose (not a bad idea) at the same time, make sure it's gas-engine and marine approved. A sharp-eyed surveyor might otherwise refuse to pass your boat on its next insurance inspection/survey.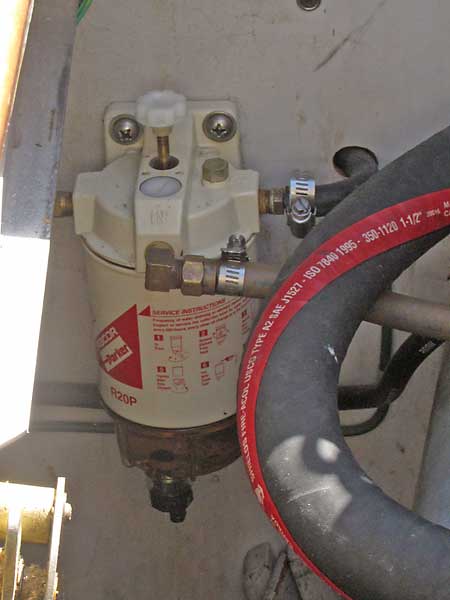 David Weatherston
Towser, Toronto
C&C 27 Mk IV