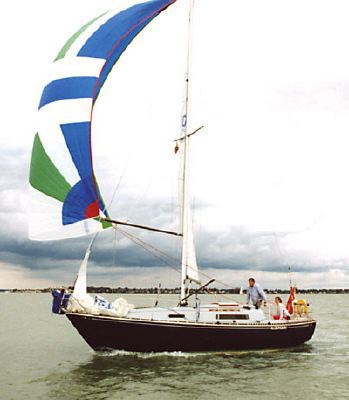 Algonquin
One-off (Built 1973 – see below)
West Mersea Yacht Club [Map]

Sailed since 2001 ("but I've known her all her life")
James & Sue Millar, Coggeshall, Essex
E-mail

"Saw the site – just popped by to say hello. She is 'a C&C design built by Anstey Yachts of Poole'. Interior is much the same except we have a very comfy nav station [where the icebox is]. Fitting out, including the interior, was all custom by the first owner (we are the second owners).

"She has had 3 different rigs in her life and is on her third engine, a diesel (the previous owner was a keen racer and electrical engineer). She retains the original lead keel. The rudder was designed by C&C on request; same surface area as the scimitar for rating purposes but deeper spade.

"We sail locally among the Essex Rivers. Also, we are trying to acclimatise our 3.5 and 1.5 yr olds to days out. We've done a fair bit of local racing for which she is set up – no roller gear ... but she is easy to sail short handed."