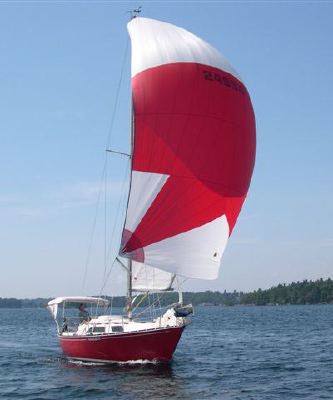 Aragorn
Mark III, Hull 744 (1978)
Stormont Yacht Club, Long Sault, ON [Map]

Sailed since 1984
Clare Jordan
E-mail

"Aragorn cruises the Thousand Islands and races in the Sunday races at Stormont Yacht Club in Long Sault, ON (near Cornwall).

The boat was painted (Imron – a 2-part Dupont paint) by Andy Wiggers' yard back in 1987 in her original, rich, red gelcoat colour. That job has stood up remarkably over the years with no fading – ( touch-up paint from 14 years ago still matches the inevitable scratch!).

You may notice from the photo that her windows are different – I've also made a few other improvements that I'd be happy to show off to anyone who bumps into us somewhere. Some of these ideas have appeared in Cruising World magazine and in the Black Arts section."