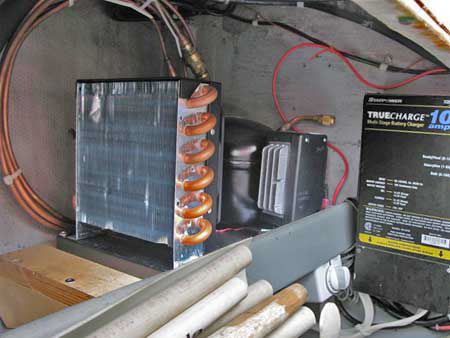 Icebox Compressor
Michael Suitor, owner of Pyrite, says installation of his Nova Kool unit was easy.
"I made a small base that has the compressor sitting level, then I drilled a hole through the bulkhead into the ice box – the distance through is about four inches. To get the fittings through, you have to drill about a one-inch hole – later I filled the cavity with foam and Sikaflex. I then carefully fed the copper through, coiling as I went. You can't bend this copper too many times or it becomes stiff, then you're toast. The unit is pre-charged with quick-connect fittings, very easy. There was nothing to the electrical either – just ran the wires to my main panel with an on/off toggle in the line. You can put the controller in the icebox, but I didn't see the point in the extra hassle, so I put it under the compressor."

A cover for the compressor is in the works.