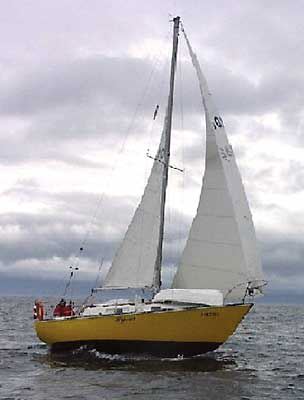 Hyperion
Mark I
Dartmouth Yacht Club, Dartmouth NS [Map]

Sailed since 2001
Ralph & Inga Ainslie E-Mail

"My wife Inga and I have owned the boat 3 years and use it for club racing and weekend trips up and down the coast. She is our first boat and tough as nails.

"She is affectionately known around the club as Hyper Onion or The Banana Boat.

"Hyperion lost her rudder during Hurricane Juan of 2003 (see 27 Tales). Ralph subsequently contributed photos and text for entries on rudder replacement and re-powering (see Black Arts). At the time of the engine replacement, Ralph remarked, "There are a lot of people out there that would say I am crazy for spending the money on a 1971 Mk1 (I have spent more on improvements than I paid for the boat), but my wife and I love the performance of the boat and I have no intentions of ever selling it or moving up."