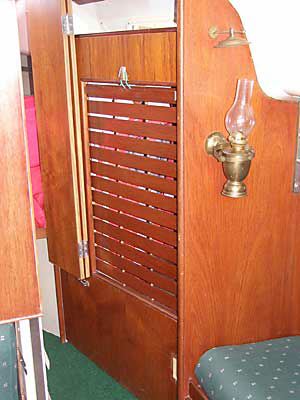 Roll-away locker door
"Inspired by the ease with which my grandfather hid the clutter on his desk, my roll-away hanging locker door uses teak plywood slats 1 3/4 inches high, 5/16 inches thick and 2 inches wider than the door opening. The door runs up and down in L-shaped tracks located behind the door opening and 1 inch outside each edge. The lower ends of the tracks connect to a box where wooden forms (in the shape of a curl fastened to the ends of the box) guide the door into its rolled-up position when it is down (open). The slats are strung together on a nylon cord but they're held apart by 3/8" wooden beads. The beads provide spaces between the slats for ventilation but they also allow the panels of the door to fold easily as it rolls away. Slight tension on the nylon cord which passes 4 times through the slats and the beads keeps everything in line. Tension on the cord is maintained by a couple of lengths of bungee cord hidden on the cord's bottom passes of the door).
"I also extended the top edges of the box up almost to the lower edge of the door opening and added some partitions to the extension so that shoes, hats, sailing gloves etc. can be stored there. A loop of bungee cord extending upward from the teak 'doorstop' (screwed to the top slat of the door) slips over a wooden knob above the door opening to hold the door up (closed). The doorstop, by projecting into the door opening, also prevents the top of the door from falling below the lower edge of the opening when down (open). Although the tracks, the door and the box into which the door rolls away, do steal a bit of storage volume from the locker, that drawback is more than repaid by the neater appearance of the locker."
– Clare Jordan, Aragorn